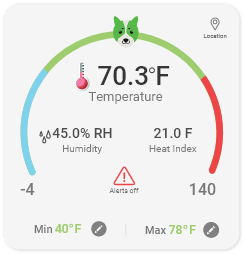 Why Is Pet Temperature Monitor Right For You?

Real-time
Temperature & Humidity

Text & Email
Alerts

Built-in Rechargeable
Battery

Works without
Wi-Fi

GPS
Tracking

Built-in Verizon 4G
Connection
Must have product for all RVers & Pet Parents!
Nicely done.. the best thing i like is how fast it sends an alert when the temperature goes out of range.. i could even set up the alerts to go to me and my family -in case i missed any one of my family members can respond to the situation.. I like the way the app is designed to make it easy for dog owners to check the temperature. There are tons of blogs/guides for dogs that you can access from the app directly… very happy with it so far..
Life saver for your pet
I HIGHLY recommend this product. I have a travel trailer and I travel with three furbabies. One night we lost power and the temperature inside quickly rose. I realized that if that had happened when I was gone I could have lost my babies. I bought this system and it has been a lifesaver. I've gotten several alerts when the temperature rose to the limit i had set. I was able to go home and take care of the problem.
Keeps peace of mind!
I'm using my Waggle Pet Monitor in my RV to keep my four legged child safe and cool in Florida if we have to leave her in the RV. What a great product in EVERY way. Best decision and most important one I've made since we started using our RV.
A Simple Device to Save a Life
As I travel ALOT for work and play with my dogs... Their safety is at the forefront of my travel plans. I always make to to safely crate my dogs while traveling and now never leave home without my Waggle Pet Monitor hooked up. It offers me the peace of mind while either on the road or in the camper that my dogs are safe. The text notifications about the temperature allow me perform the various dog sports we compete in without worrying about the other dogs still inside. It is one of the best investments in my dog's safety I have ever made.